The Rollington Town Seventh-day Adventist Church's Community Services Department coordinated its annual treat on Sunday, December 11, 2022. The department, under the leadership of Kaydean Murray Hutton and assisted by several members of the church, catered to persons in need within the community as well as shuts-ins.  Residents of the Golden Age Home as well as  children residing at the Reddie's Home of Safety along with  officers from the Giltress Street and Vineyard Town police stations and the Rollington Town Fire Station also benefited from the treat as well.
Community Service members of the Rollington Town church prepared care packages of non-perishable items for give away at church while gifts were prepared during the week leading up to the treat. On the morning of the treat, a variety of meal options were also prepared.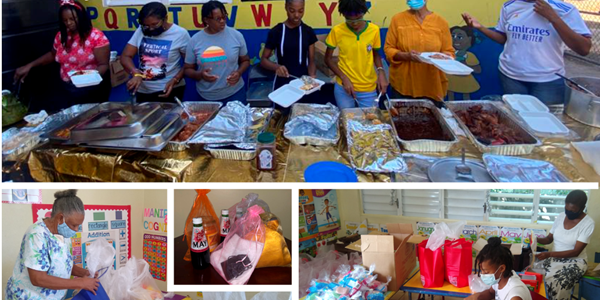 Officers of the Giltress Street Police Station, Vineyard Town Police Station and the Rollington Town Fire Station were treated to fruit cakes and non-alcoholic wine. Gift packages, consisting of toys, a bottle of non-alcoholic wine and fruit cake were delivered to the Reddie's Home of Safety.
Shut-in church members, residents of the Golden Age Home as well as persons in need in the community and from the church, received care packages, gifts and meals. The gifts consisted of the books Steps to Christ/Hope for Today's Families, pillow cases, bath rags, socks, lotions, small bottles of non-alcoholic wine, etc., whilst the care packages included food items such as rice, cornmeal, oil, canned goods.
All our praise and thanks to God for using the Community Services department in coordinating the treat. The items were greatly appreciated by all who were in receipt. All our thanks to all who contributed, assisted and participated in one way or the other for the church to support the Rollington Town community.
Please see the pictures below.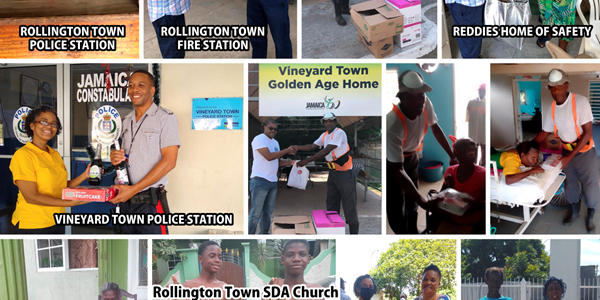 East Jamaica Conference of Seventh-day Adventists Comment Guidelines: