Over one thousand couples scattered across the Seventh-day Adventist Church in East Jamaica Conference renewed their commitment to remain faithful to each other in a special Couples Renewal service on Saturday June 4, 2022 at the Kencot Seventh-day Adventist Church in Kingston.   The service, themed 'In Spite of…I Still Do' was streamed via the Conference's YouTube channel to facilitate participation of couples in the over one hundred churches and companies across the constituency. 
 The charge was made by Pastor Roy Dennis, family life director of the Jamaica Union Conference of Seventh-day Adventists who said he was happy to be a part of this "mass celebration of couples."
"In a time when there is all sorts of alternatives, we are saying today that marriage is still between a man and a woman and God is still in the business of keeping marriages and families together," Dennis said at the start of his message.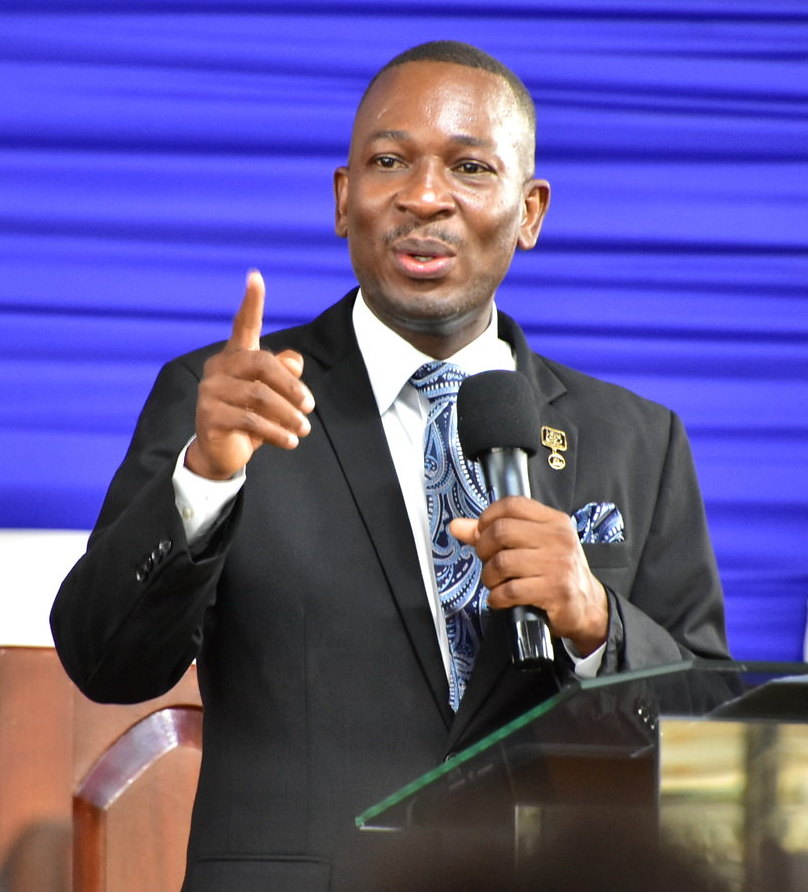 Pastor Dennis, who was introduced by his wife Keisha, captioned his sermon 'Journeying together'  and used the story  found in Genesis 12 of Abram journeying  from his homeland with his wife to a country  where  God directed him  as the backdrop for his message. 
"Life is a journey and marriage is a journey and on life's journey it is not going to be smooth sailing or a bed of rose," Dennis said as he sought to make his listeners know that problems is part of the journey in marriage. "Crisis and difficulties will come but if we exercise resilience and connect with God and love one another we will end up together  in the end," he added.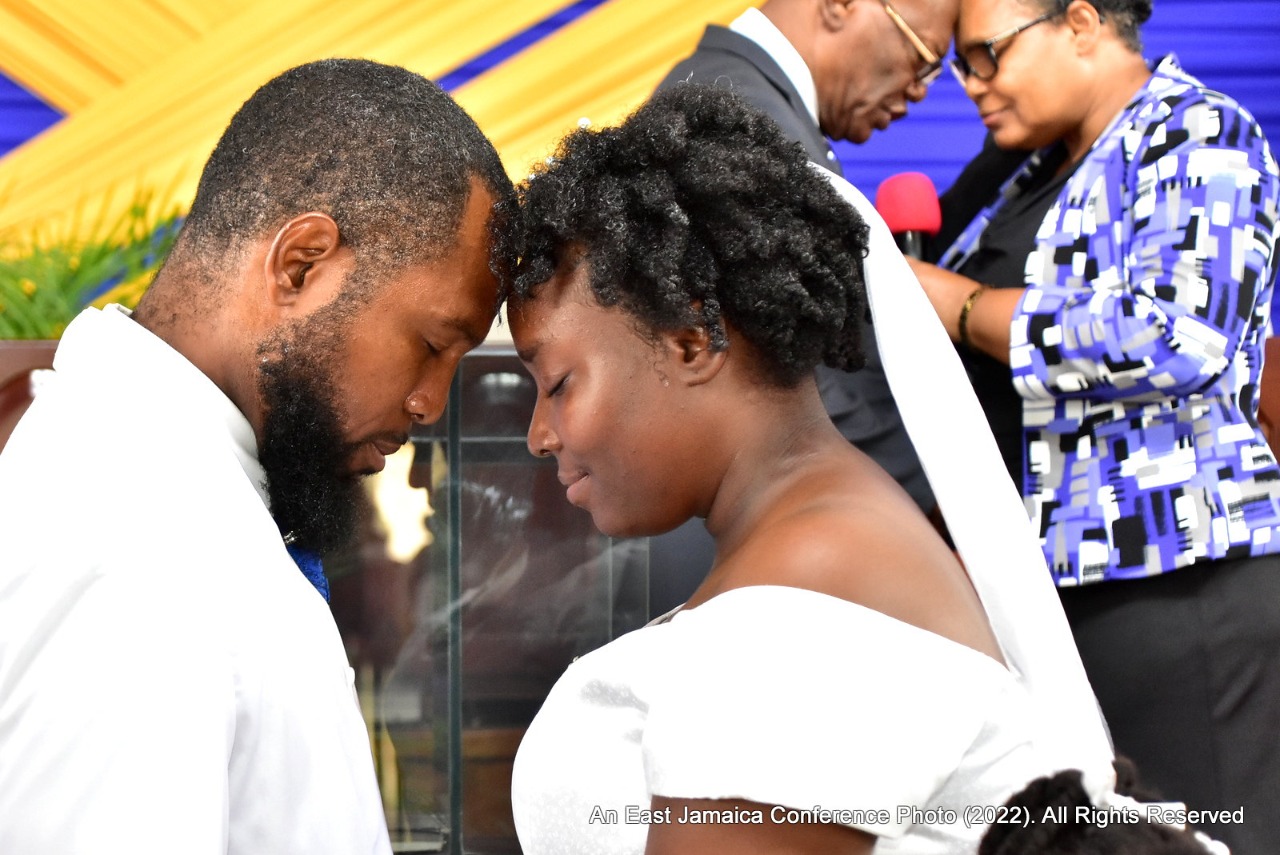 Elder Claudette Genas, family ministries director, was pleased to see the many couples that turned up at the Kencot SDA SDA church to strengthen their marriages." Marriage is a ministry and if we don't look after it, somebody else will do,"  she said when she addressed those in attendance  during the  Divine Service. Registration records show that just over 200 couples we physically present at the Kencot church alone.
The family ministries director said she was pleased to see husbands and wives kissing each other in church since it sent a positive signal to those around..  " We want the world to know that marriage is working. For better or for worst is still working for us, no matter what happens," she said.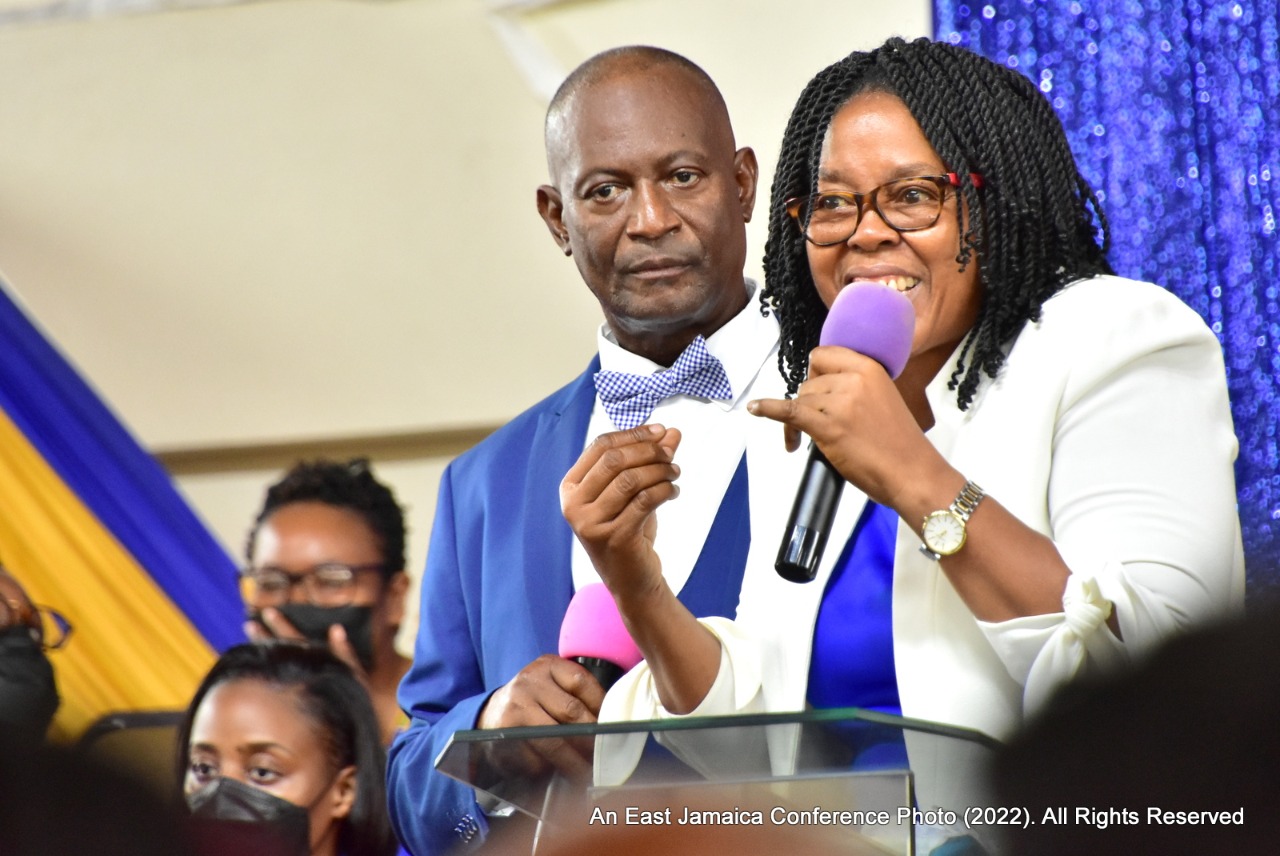 Elder Claudette Genas was almost brought to tears when her husband  of 43 years, Aston Genas, looked into her eyes and said "It is good to give loving support to your spouse each day and that is what I have been doing for the last forty three years and eleven months.  I would marry  you again, for your love, devotion,  commitment, self sacrifice that you have given to me, the children, the family and your church. May God continue to bless you," he said, then he sealed  it with a kiss.
Pastor Eric Nathan, president of the SDA Church in East Jamaica Conference and his wife Dr. Carol Nathan affirmed their love for each other publicly during the service as well and  was an example to the church both in word and  deed.  Dr. Carol Nathan  publicly  declared  to her husband  of more than  forty years that  " I have watched you and seen you in ministry and today I want to celebrate with you. You have been my rock and my stay and as we continue, I wouldn't exchange you for anything as we celebrate forty one years of togetherness," she said sealing it with a kiss.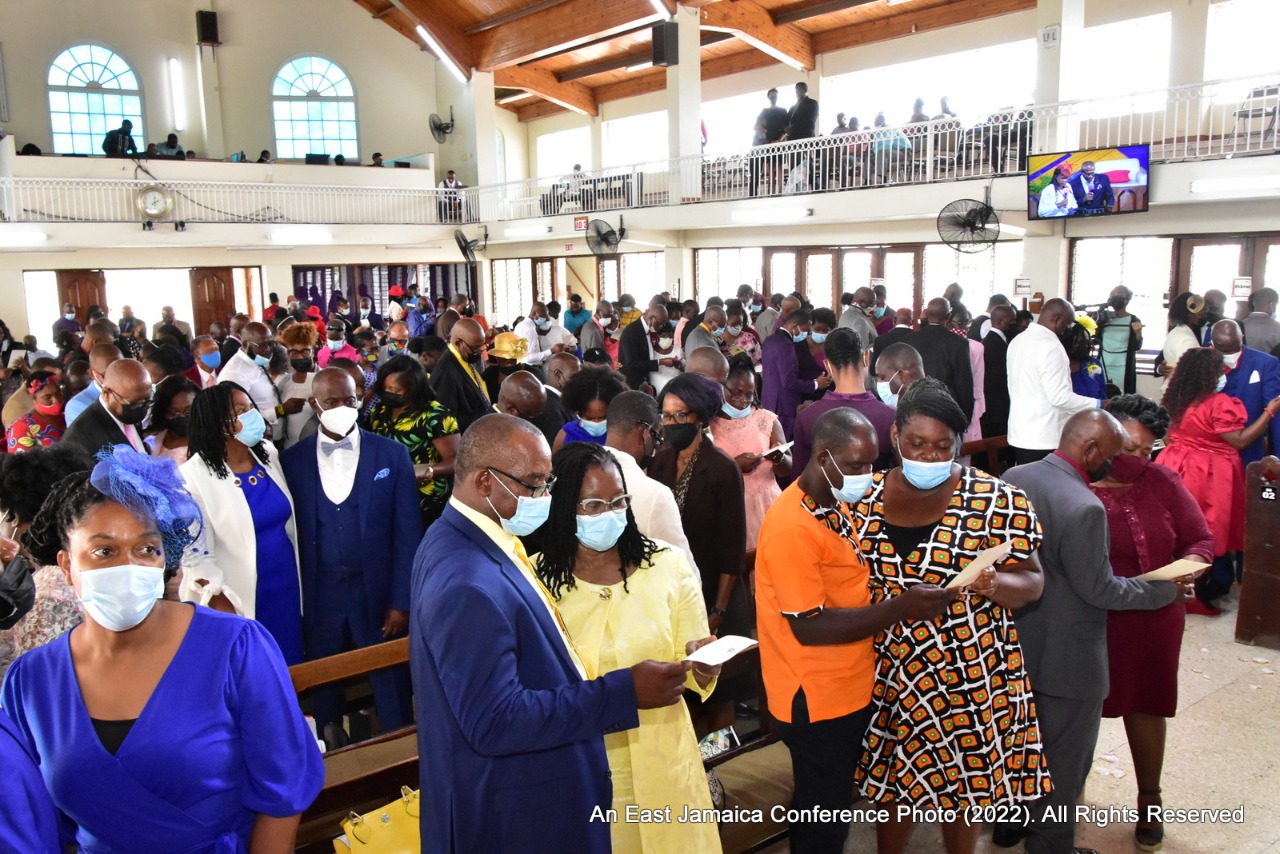 The Couples renewal service was different in several ways from a regular church service in that all activities  were done by married couples including, songs, testimonies and prayers. As couples entered the sanctuary, they were instructed to sit in designated seats by the month in which they were married and couples were asked to kiss their spouses as their month of marriage was called at a point during the service.  At the start of the divine service, selected  couples  marched up the aisle with their spouses beside them and the first couple that led the procession was dressed in their wedding garments.
The re-commitment pledge for the couples  was done by Pastor Linton Williams, executive secretary of the Conference and his wife Sharon who asked couples to "stand, turn to each other, hold  hands and look to each others eyes as  they made the pledge of commitment to each other.
East Jamaica Conference of Seventh-day Adventists Comment Guidelines: