The gates of Everton Park were open to the community as it hosted its inaugural Job and Education Fair on Monday, April 10, 2023. The Fair was a collaborative effort by the Women's Ministries and Education Departments, and was geared at bringing sought after services to the Parks Road community and its environs.
Sis. Audrey Simon, Women's Ministries Director, shared the motivation behind the event. "The dream was to be able to bring services to the people in this community and the adjoining communities, and by extension the pastoral district," she said.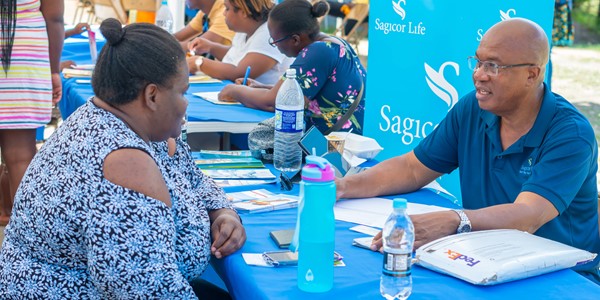 A number of organizations turned out to offer services ranging from banking and insurance services, application for Taxpayer's Registration Numbers (TRN) and Internet service, photography services and recruitment for the Jamaica Constabulary Force. Senior Compliance Officer with the Tax Administration Jamaica, Mrs. Kathleen Burton-Marriott expressed satisfaction with being involved in the event. "Persons came here with their documents, and if what they had wasn't sufficient, they went home and came back in time. Today, we did 30 or more TRN applications and I think that was good," she noted. She added that persons were interested in getting additional information and expressed satisfaction with the service rendered.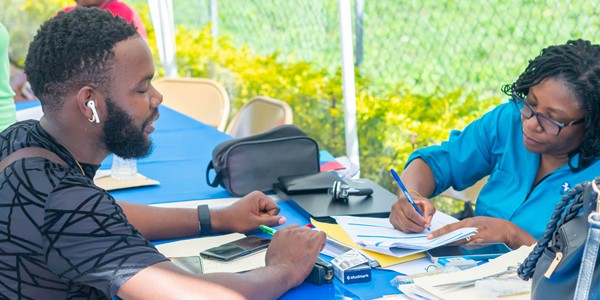 Mr. Damian Gray, a member of the community, found the Fair to be beneficial. "Overall, it has been good, there was a lot of information. I got information from TAJ, Sagicor; I came mainly for JN and I was really satisfied. It's a good initiative and Everton Park should do it every year," he noted.
The team from Jamaica National Group was on site to assist persons with opening and reviewing accounts, accessing small business loans and to publicize their current vacancies in-branch and at their Contact Centre. Following a steady stream of clients throughout the day, Member Services Representative, Mr. Jermaine Stephenson, expressed his satisfaction with the turnout. "It was a really good crowd, persons were very participative and interactive, and it was well organized. I would come again," he stated.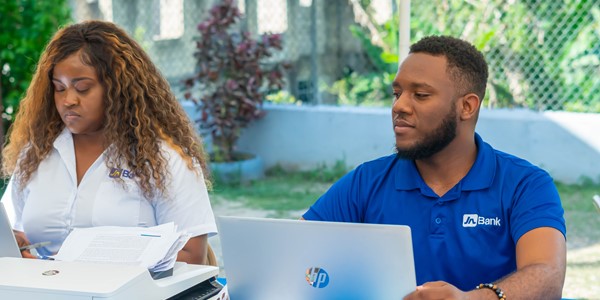 During the course of the day, persons were able to receive free blood pressure and blood glucose checks from Ms. Latoya Chevannes, a nurse who serves the Emergency Medicine Division at the University Hospital of the West Indies. "Today, I was able to serve at least 50 persons. Based on my busy and stressful schedule, often times I do not get to do voluntary service, so it was an honour for me to come here and serve today," she shared. She added that a number of individuals received counselling based on the findings of their readings. Luna Care, a business that specializes in feminine underwear worn during one's menstrual cycle, was on hand to share information about their products and do giveaways.
As late afternoon approached, persons were still streaming through the gates see what services could be accessed at the eleventh hour. District Pastor, Selvin Stewart, noted that he was pleased with the initiative and deemed it a success. "When a church is relevant to the community, it is a growing church, and in fact, the church is here to serve the community. The service today was awesome and I was pleased to see the number of beneficiaries from today's programme," he noted. Stewart went on to express his gratitude to the stakeholders who were present to serve the community.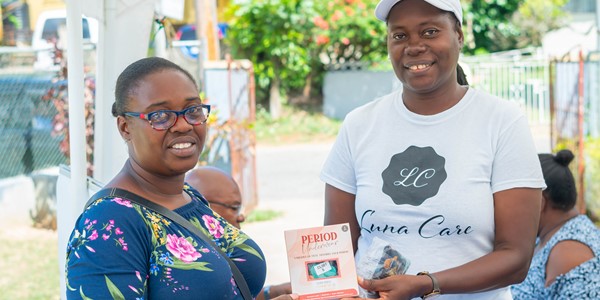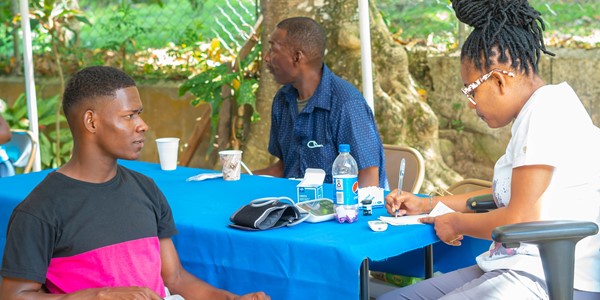 Sis. Jacquelin Hope, Education Director, anticipates the Fair being an annual fixture on the church's calendar. She said "It's our first time, a lot of people came out, especially the young people and they were able to get most things done. Each time we will host the fair, we will invite more people so we have a wider variety for people to choose from."
The planning team extends their gratitude to Sagicor Life, Tax Administration Jamaica, Jamaica National Group, TJ Pixel Media, Covenant Insurance Brokers, National Health Fund and FLOW.
East Jamaica Conference of Seventh-day Adventists Comment Guidelines: