Sabbath, August 6, 2022, marked the 60th year of Jamaica's Independence andthe beginning of a new chapter in the Everton Park District as they welcomed their new Pastor, Selvin Stewart, and family. Members from across the district attended the installation service along with relatives and friends of the pastoral family.
Pastor Glenville Carr, representing the Conference President, led the proceedings. He registered his appreciation and gratitude to Pastor Darren Murphy and family for the work they accomplished during their stint. In introducing Pastor Stewart, Pastor Carr shared that he is a man of the people, a dedicated and highly motivated individual who takes the Gospel Commission as laid out in Matthew 28:18-20 as his personal commitment. Following the reading of the litany and the dedicatory prayer, Elders from the five churches greeted and welcomed Pastor Stewart.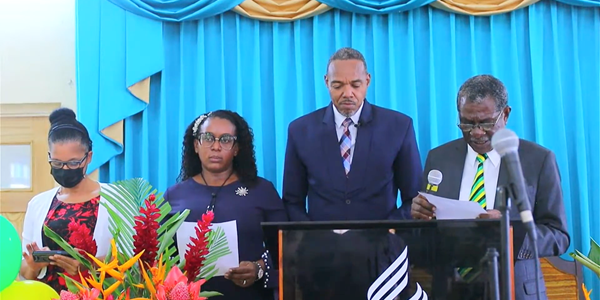 In his sermon captioned 'God is not through with you yet', Pastor Stewart noted that in order for us to allow God to do new things in our lives, we need to leave the past in the past. "Don't ever let what you are seeing and what you have seen cause you to forget what God has said. Behold I will do a new thing for you, to you and in you," he said.
As Pastor Stewart continued, he declared that in order to experience new things, we have to be in tune with God and open to His adjustments. He referenced the story of Abraham and how he was initially told by God to sacrifice Isaac, his son. When God realized his obedience, He called out to Abraham and he instead sacrificed the lamb God had provided. Pastor Stewart noted that if Abraham had stopped listening to God, he would have killed his promised heir. "If Abraham had stopped listening to God, he would have been disobedient in obedience. Too many people in the church of God have stopped listening to the voice of God. God has told you 25 years ago and God can't tell you anything different," he remarked.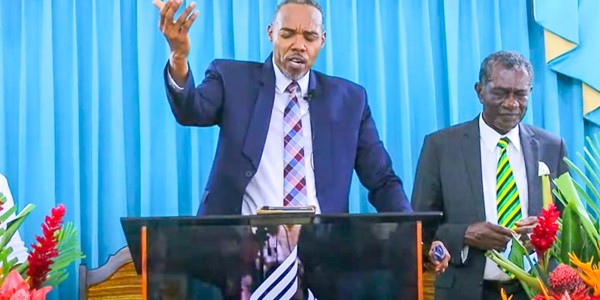 He reflected as he recounted his testimony of God doing a new thing in his life; transitioning from the teaching profession to full-time ministry. He shared that when he received God's instruction to become a pastor, he explicitly told God "That makes no sense!" He also gave God 3 reasons for his inability to answer His call. He told God "I'm too pauperized to provide, too imbecile to be intelligent and too messed up for ministry."As he closed, he encouraged the congregation to trust God because He is not through with them yet and He wants to do news thing in their lives.
Following the service, Sis Heather Williams Crosby, Elder from Padmore SDA, shared her first impressions. "It was an enlightening and lovely service. Pastor Stewart appears to be a dedicated, loyal and caring shepherd; a true missionary of God," she said.
Pastor Stewart has high hopes for the district under the mantra Everton Park DRIVE; keeping the mission alive. The acronym DRIVE represents:
- Develop our youth and children
- Revive and reform our churches
- Invest in our membership
- Visit the needs of others
- Evangelize our communities
Elder Trevor Seabourne from Rock Hall SDA welcomed the Stewarts and was excited about the collaboration in ministry. He shared, "As church members, our goal is to minister and we are privileged to co-labour with our Pastor in this transformative work of demonstrating grace, sharing the good news and equipping disciples as we all continue on our DRIVE to God's Kingdom."
East Jamaica Conference of Seventh-day Adventists Comment Guidelines: